This year the Expo will be held in Nashville, TN – Nov. 2-4
MPanel will be in booth #2445 and we'd like to extend our offer for free Registration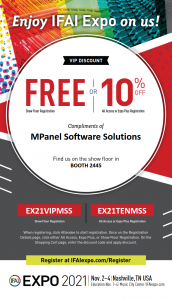 Presentations:
This year, Tim & Andrew will present a lecture on "Shade Sail Engineering" held on Tuesday, Nov. 2 from 10 – 10:50 am as a classroom session.
They will show "It's Not Just a Bunch of Numbers" and that engineering is not something to be left to the last stage of a project. They will demonstrate how easy it is to use Analysis software and how it will help produce better and longer lasting designs and solutions.

Tim will share his extensive Marine experience with a presentation titled "How to Complete your Marine Fabric Project in Half the Time and Achieve a Perfect Fit" which will be held on Wednesday, Nov. 3 from 11 – 11:50 am as a classroom session.
New Products and Updates:
Visit us and ask to see the pre-release version of MPanel Awning Designer which is a new product for designing and patterning Awnings which we expect to release early next year.
We will also be demonstrating the exciting list of new features of the soon to be released V5 of InSite.
Latin America and European partners
We're looking for new partners to work with to grow and support business in Latin America and in Europe. If you are bi-lingual and have in-house CAD skills/resources/experience and work with a large numbers of clients in your region, we would love to make contact with you at the show. Please visit our booth so we can share contact details and show you more about what we do.
We've added a huge number of new features  during the year, so please come by and visit with us…we are always happy to see you!
We look forward to catching up again with you in person………………….MPanel Team