This year the Expo will be held in Orlando, FL – Oct. 1-4
MPanel will be in booth #1563 and we'd like to extend our offer for free Registration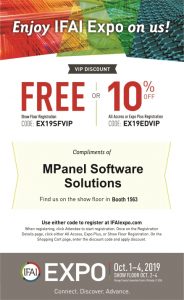 This year, Tim & Alan will present a lecture on "The Technology Behind Shade Sails" held on Tuesday, Oct. 2 from 11 – 11:50 am in the Convention Center (Room TBA).

The lecture will address Shade Sails as engineered structures however, the technology is often misunderstood and underestimated. The result is that many shade sails fail long before their normal life expectancy. The right design and detail will ensure you avoid these problems. In this session you will learn:
Identify the differences between great and poor design
How a catenary works
Correct patterning to make the best shade sails

Our worldwide representatives will attend the Expo:
Alan  Stewart from Australia
Andrew Askwith and Barbara Derrick from the UK
And, of course, Timothy Akes from the US
There are a lot of exciting new features we have added to MPanel software during the year, so please come by and visit with us…we are always happy to see you!